LUXURY SPA loungers for hotels, wellness areas and residential saunas
The luxury
SICIS h

eated lounger for your hotel SPA
High quality designer spa lounger

The mild radiant heat over the shiny glass mosaic with its unique effect on our well-being. Perfectly shaped relaxation in a luxury tiled lounger. Timeless design, ergonomic shape, easy-care durability – these heated lounge loungers are real works of art that perfectly complement the upscale hotel SPA area or even the private wellness area.
Due to the noble, handmade Italian glass mosaic, the lounger shines in a special brilliance from every viewing direction.
As at SOLEUM almost the complete outdoor steam baths and outdoor sea climate cabins are handmade, so the exclusive SPA heated loungers with high quality glass mosaic from SICIS in a combination with micro-cement or real metallic coating are made in a very laborious work process.
Since more than 900 colors are available, almost any mosaic design can be laid according to the customer's wishes.
Choose from 192 different glass mosaics of the COLIBRI collection their suitable mosaic surface.
For architects, SPA planners, hoteliers, SPA designers, we will gladly send you the presentation box of COLIBRI collection for a fee. Please contact us before ordering so that we can configure the lounger for you in coordination.
You can see your desired glass mosaic in advance at the following link to SICIS website:
The elegant-looking coating with microcement, which gives the wellness lounger a special feel (different colors are available), is also handmade. It's not just a soothing heated lounger, but an exquisite piece of furniture that enhances your surroundings.
Technical Data
Sicis Mosaic: Colibri Collection
Special epoxy joint compound selected as best as possible according to the mosaics surface
Power Heating: 459W, 230V
The Temperature is free adjustable
delivered ready to plug in, "Plug & Play"
With LED lighting around the base and a handcrafted microcement coating (color selectable).
Dimensions: Lenght159cm, Width 81cm, High 106cm
Weight: only 80kg
Art.: Nr: 4301001000
Private SPA
Bring the pleasant (healing) effect of infrared heat into your home – luxury for your home. Your personal "Private SPA" – whether in the living room, conservatory, bedroom or in the wellness bathroom.



Microcement Coating
in different colors
Microcement is a two-component system of polymers and cement. You can choose the surface in different colors.
The microcement is applied by hand. For this reason, the customer should accept that slight irregularities and minimal defects can appear when working with a plastic material. Microcement is a handmade product that is unique
manufactured and not mass-produced. Differences in color nuance and/or color concentration should be viewed as valuable elements of the work – not as a blemish.
Here in the picture you can see a microcement coating in black / anthracite which has been provided with an OVERLAY, an additional graphic / pattern or an additional design. This additional design layer can be chosen in a different color than the background color.
We can also place YOUR COMPANY OR HOTEL LOGO or your desired graphic here (if possible, extra charge!).
Please contact us!
The appearance of the surface varies depending on the type of surface treatment / surface protection such as wax, varnish, sealing!
REAL METAL COATING – luxury lounger in GOLD, BRONZE, COPPER, IRON

Why not even more luxurious touches? Impress your guests with your piece of furniture that looks like a work of art!

Luxurious and Durable: Strong and durable yet lightweight metal finish with a luxurious look. Here, too, additional overlays are possible as desired. Hotel logos too!
Each design has its own distinctive style.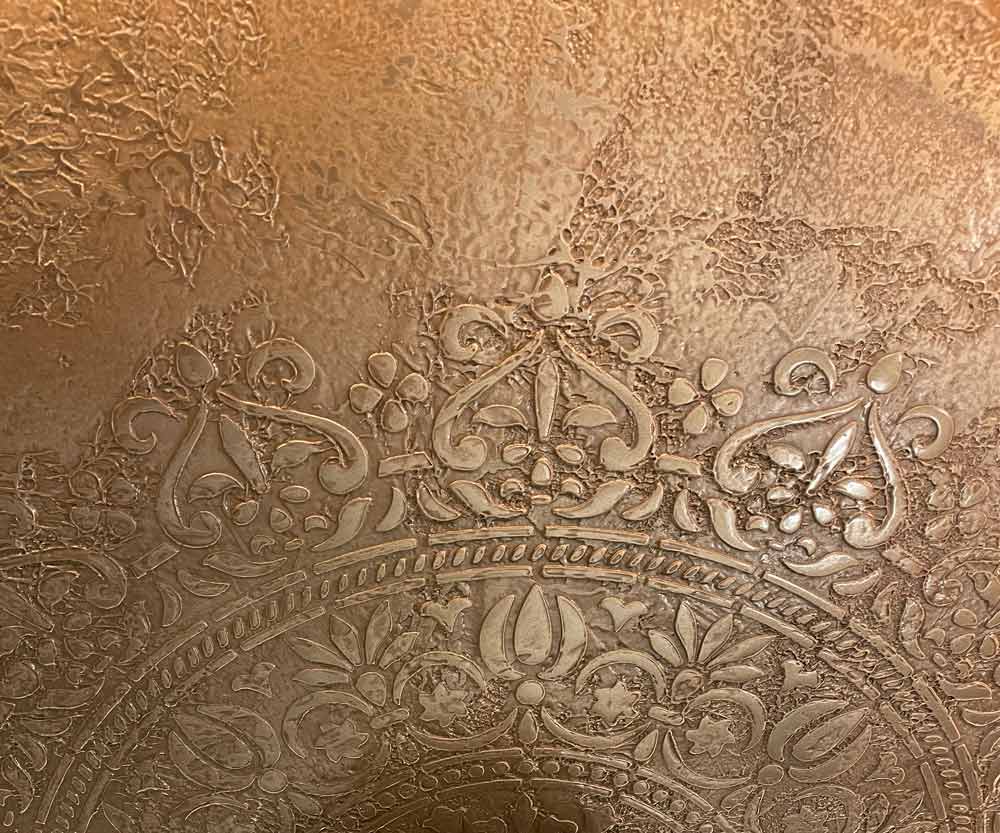 Luxury SICIS SPA loungers in the swimming pool, next to the pool and in the thermal baths
When used in wet areas such as in SPA facilities (sauna area, pool area), the luxury heated loungers are provided with a special, waterproof coating.
Our loungers are also available for the hamam and also for the steam bath.</ p>
Sophisticated wellness and SPA facilities
Especially in the upper hotel category, the SICIS wellness loungers in combination with a real metal coating impress immensely. This luxurious combination and the positive effect of infrared radiant heat will enchant your guests.
In the following pictures you can see a sample of the real metal plating copper and gold.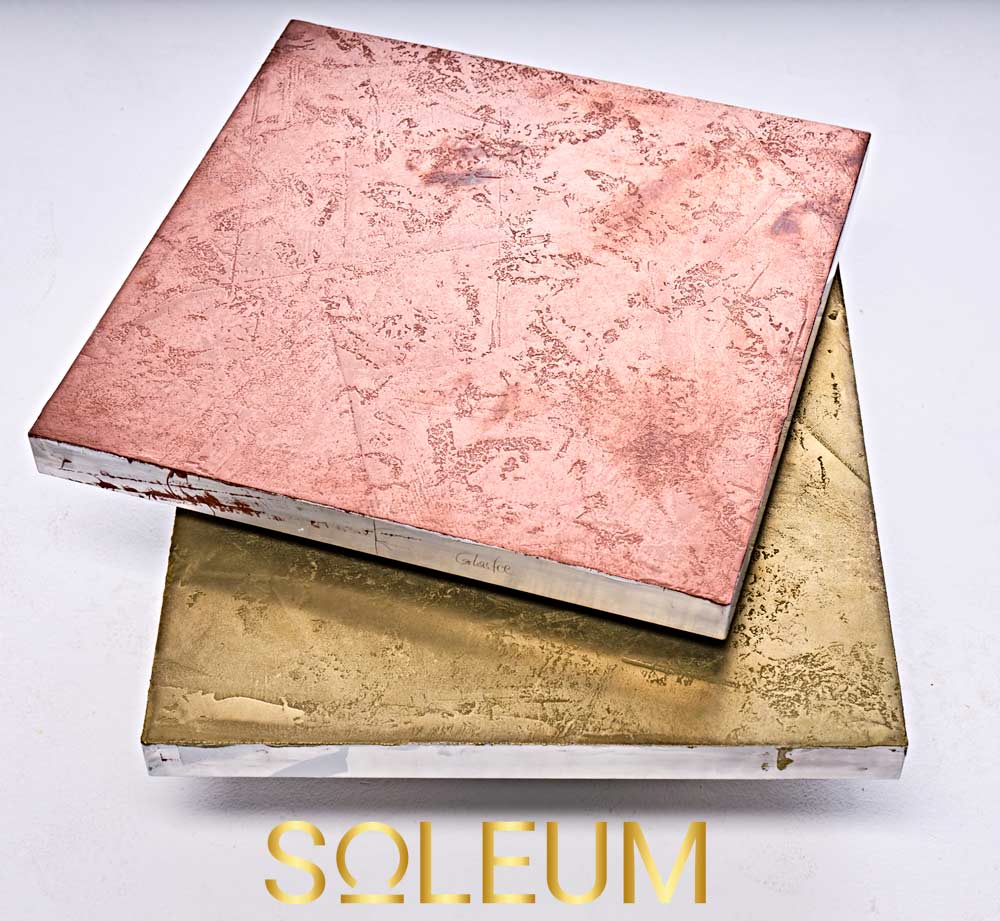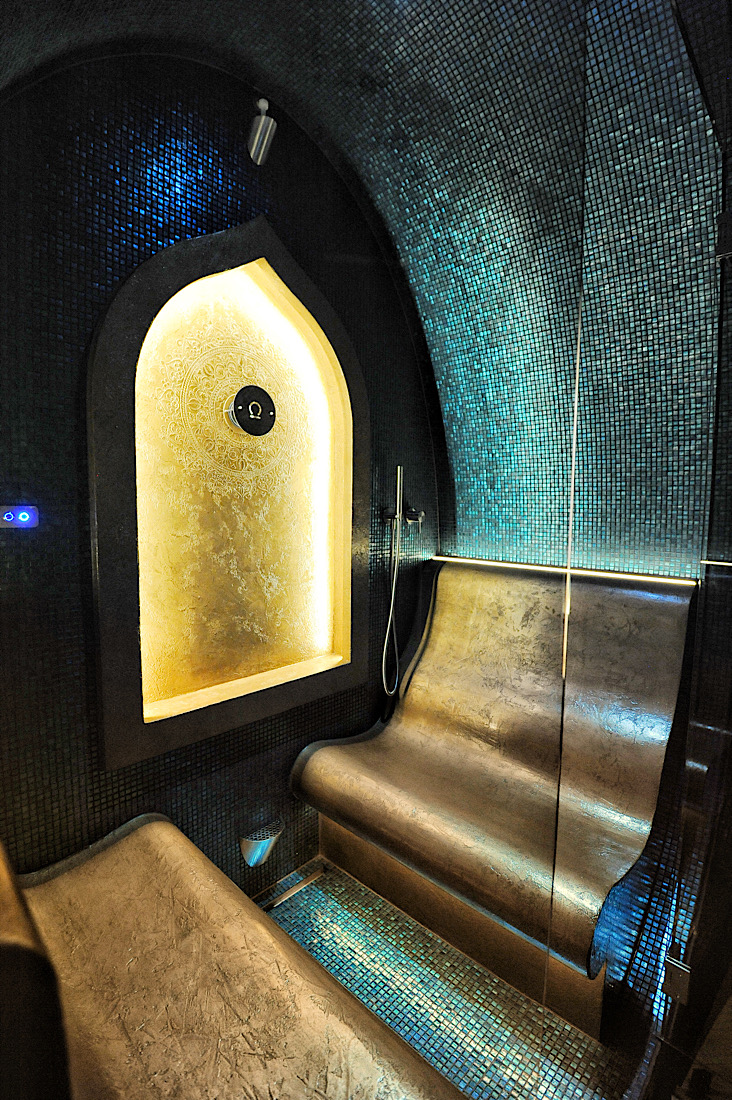 Halotherapy dry salt inhalation in a luxury design
Sicis mosaic and real metal coating in bronze
The luxurious combination of SICIS glass mosaic and BRONZE coating was realized here in our outdoor steam bath and halotherapy cabin. Wellness and health treatments packaged in a high-quality design.

TAGS: #architect lounger #design lounger #designer SPA lounger #tiled infrared lounger #tiled heated lounger #gold coating #hotel SPA area #hotel lounger #thermal lounger #lounger for thermal area #infrared lounger #massage lounger #hamam lounger #lounger for architects #lounger for wellness area #lounge lounger #luxury lounger #luxury SPA lounger #luxury hotel SPA #luxury SPA #luxury heated lounger #luxury lounger #microcement #microcement coating #relaxation lounger #SICIS lounger #SOLEUM lounger #SPA designer #SPA ideas # SPA lounger #SPA loungers for hotel #SPA planner #Heated lounger for SPA systems #Wellness area #Wellness lounger #Bronze coating #Chalet SPA lounger #Real metal coating #Infrared chaise lounge #Wellness loungers #Wellness lounger #Accessories for wellness areas