Luxury Outdoor steam bath from SOLEUM, model ELLIPSE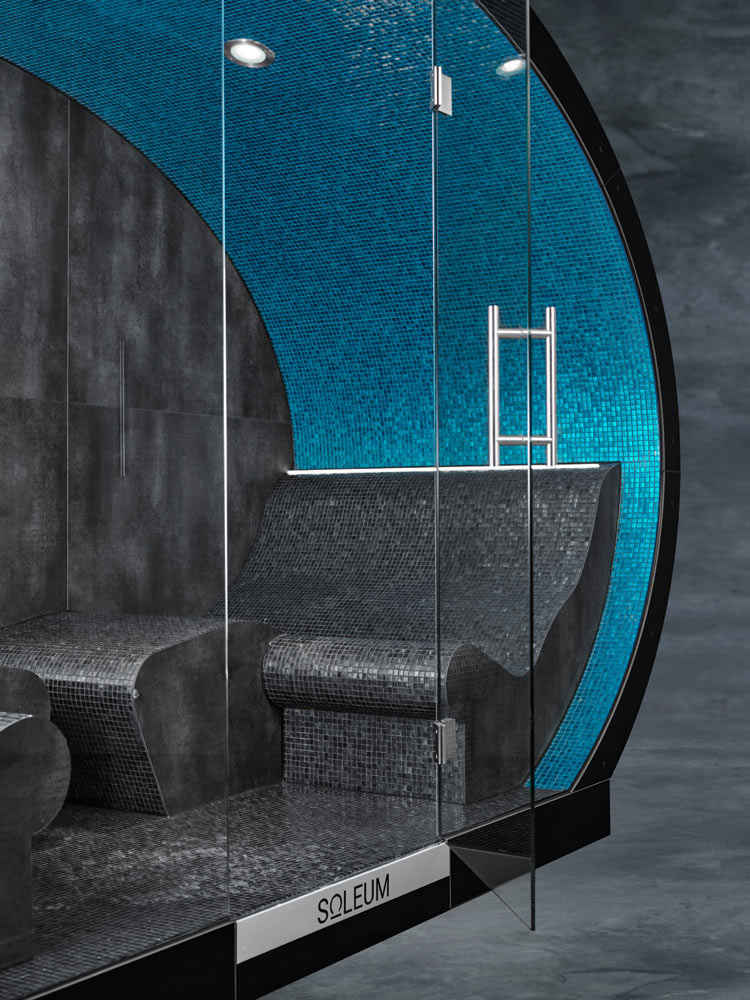 A luxury OUTDOOR steam bath
This steam bath was produced for a customer with elegant glass mosaic from SICIS. The deep turquoise glass mosaics with the anthracite tones create a very luxurious touch. Wellness at a very high level!
All surfaces are heated with a electrical heating, a Tepidarium, steam bath and salt inhalation in one cabin.
The commercial EPOXY joint compound was specially produced for this glass mosaic to match the RAL as far as possible. It calms the overall look and lets the glass mosaic work. It shimmers a little differently from every angle.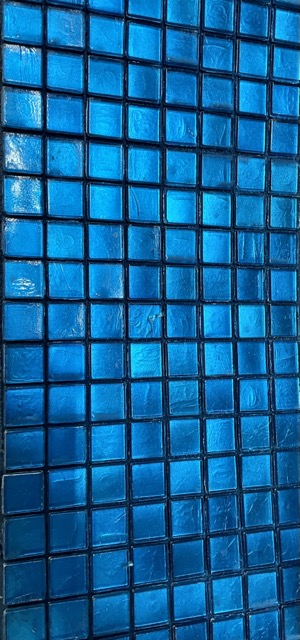 SICIS glass mosaic series COLIBRI
The following glass mosaics were used in this project:
Dome: GENTIUS 3
Loungers, floor: YANNAL 3 a>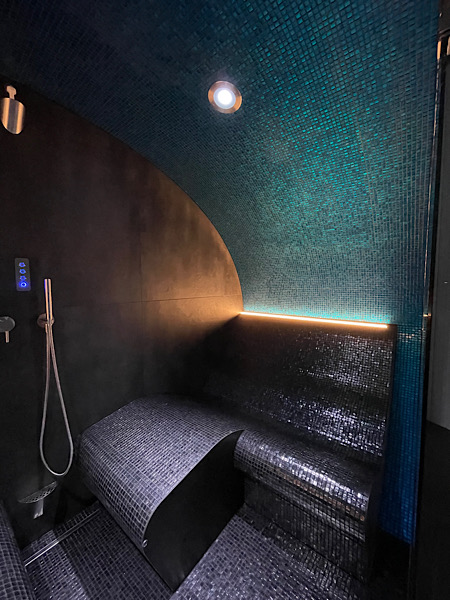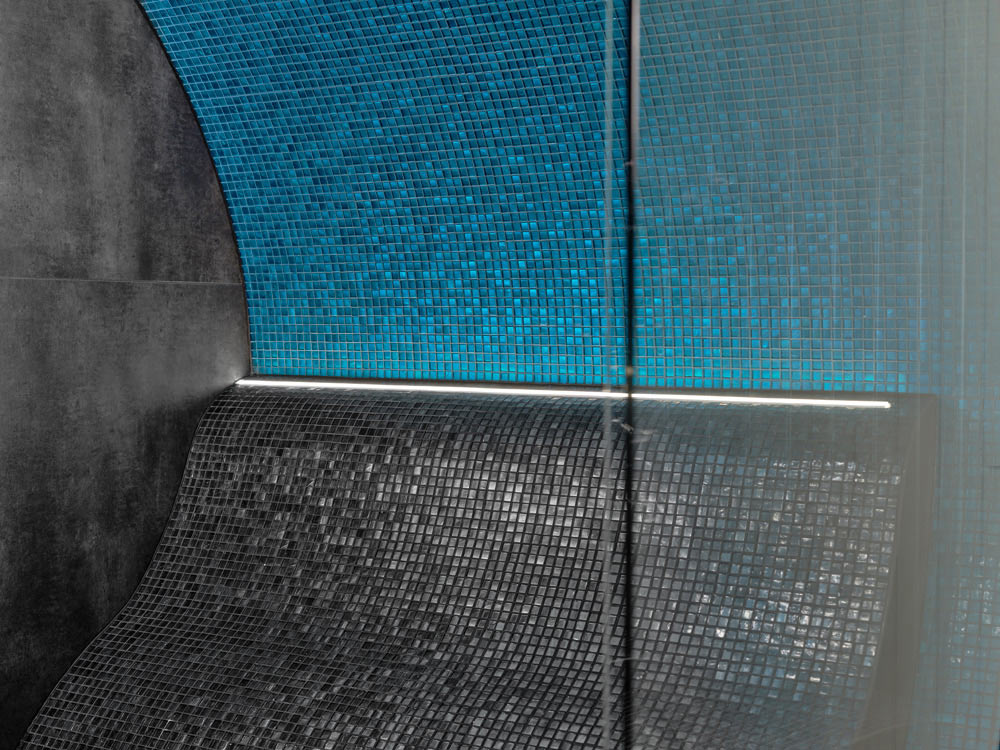 With the smart control you can configure and switch on any colors. Sequence programs can also be defined. An impressive spectacle when the cabin was set up outdoors.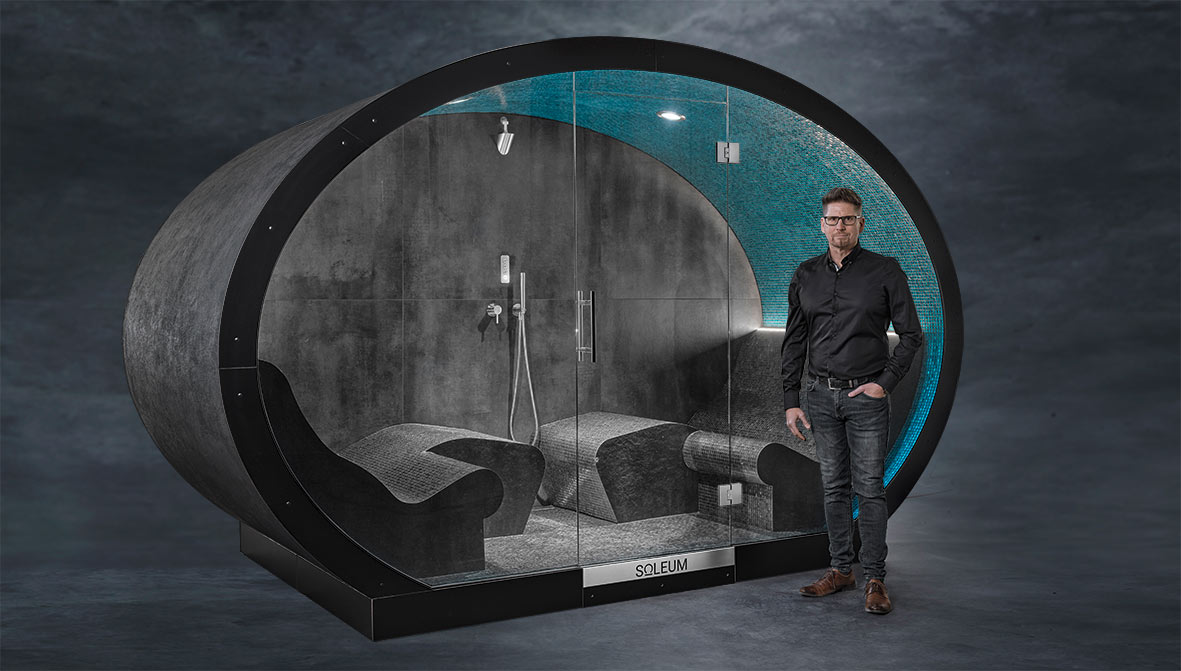 This outside cabin offers you plenty of space for 4 people. You can relax on the two comfortable loungers during your inhalation session (brine nebulization) and/or in steam mode.
The cabin is delivered ready for connection.
The integrated hand shower offers a connection option for hot and cold water. If you only run cold water to the cabin, you must have the plumber connect the two connections.
After a soothing scrub (e.g. salt), you can shower off with the hand shower. However, their main use is for regular rinsing/cleansing of the cabin after a salt or tea inhalation.
Use the internal stainless steel button to switch the following on/off:
brine fogging
steam generator
fragrance pump
Change of different color programs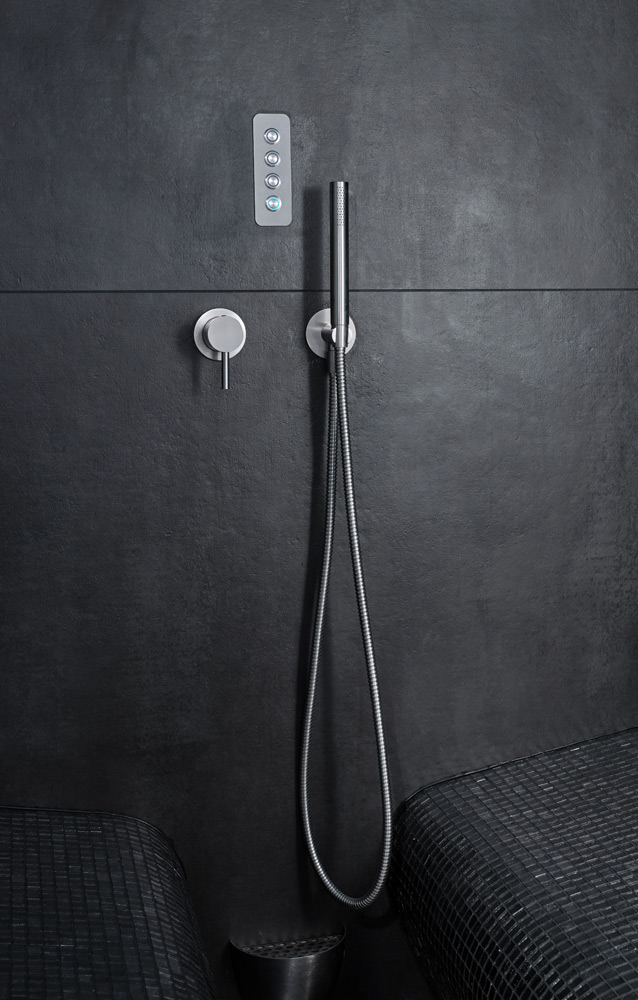 In the video you can see the extremely intensive salt atomization. Here, approx. 3% brine solution is finely atomized in the cabin. This creates an unbelievably intense sea climate. So you lie relaxed in the warm loungers and are in the middle of a sea spray. With every breath you have to inhale. The salt on the skin also has a very positive effect, for example with neurodermatitis or psoriasis/psoriasis. Salt inhalation is also said to have a positive effect for those suffering from long-Covid.
Hot steam is blown into the entire cabin via the stainless steel steam outlet nozzle. Here you sweat at around 47 degrees Celsius (116 degrees Fahrenheit). After sweating properly, when the pores of the skin are open, you can peel your skin with a salt peeling.
Operate both wellness programs, steam bath and salt inhalation! So you already have the salt on your skin in your pores through sweating.